Have you guys been following the hit show "Thicker Than Water" on Bravo? They are back for a third season and the trailer looks juicer than ever! Dani LaShay got a chance to sit and chat with one of the stars of the show, Cyrene Tankard, to discuss the new season, why she isn't your typical preacher's kid and more. 
Before we get into the interview, take a look at the trailer for the new season of Thicker Than Water.
So Cyrene was able to spill a little tea about the third season.
DL: Congratulations on the new season. You guys are back for a third season. What can we expect from you guys? I did see the trailer on Bravo's website it looked really good.
CT: Yea it's juicy this season. This season we…..it's a lot to it….where do I start? Um well, you'll kind of just see where everybody left off from season 2. If you've been keeping up, you'll see me and how I've been transitioning in college, different things that I've been through and had to overcome. You'll see Brooklyn who is starting her music career, and she kind of gets into it with my dad pretty bad, which is kind of a big deal this season. We take a few trips, and you can kind of see how we grow together as a family, and as people. I feel like this season you get to see us as individuals, instead of like a collective unit.
DL: Last season you guys dealt with a lot of family issues. Between your mom and her sisters…will we see that hash out this season?
CT: Um…you guys are gonna have to wait and see about that one. I think we still kind of working that one out. That might go into season four [laughs].
DL: Speaking of your mom, I did see that she took you to the hometown of Detroit, which is also my hometown. What was that experience like for you?
CT: I was actually born in Detroit as well, and my family is based in Detroit, so it was kind of like going back home again. But the cool thing about this trip was that I got to go with all of my siblings and I've never been to Detroit with all of my siblings. Then it was kind of a track down memory lane for all of us. My mom was telling us about her background, the way she grew up, so it kind of helped us connect with her on a different level. Which we all liked. 
DL: That's great, what area is she from?  Did you guys happen to check out Coney Island?
CT: She's from the Southfield area, and of course! You can't go to Detroit without going to Coney [Island].
DL: Now you talked about balancing college life, how do you handle or balance being a preacher's daughter, as well as a reality star?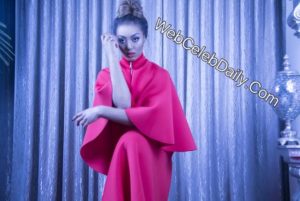 CT: You know people have been asking me that, and they commented on me being a preacher's daughter since I was younger, and the cool thing is about my parents is that they never really made it a big deal. They were never like, "you need to behave differently because you're a pastor's daughter", it was just like I was just another member of the congregation….it didn't really feel off or weird or anything…….yea …..they never really pressured me about it. If anything, other people pressured me about it more than they did. 
DL: Have you ever seen that show on Lifetime called 'Preacher's Daughters'?
CT: Yea, I've caught an episode or two of it,
DL: Okay, do you think that you can relate to them? As far as how they felt they had to behave a certain way?
CT: No [Laughs] I'm too much of a free spirit to worry about that. That's the last of my concerns. 
DL: I get that vibe from you. What do like when I see you on the show is that you're not out here wilding out like the average ….preacher's kid….I say that because I've been told that PK's are the wildest ones.
CT: Don't get me wrong, I have my moments, but I'm pretty smart about it. 
DL: What I also like about you is that you don't try to be a goodie two shoes because you're a PK.
CT: No… I think it is very important to be yourself. Regardless of the situation or circumstances you are in because at the end of the day, it's not fun to fake who you are, and it's more work, so why would you do that to yourself? Life is already hard enough as it is. 
DL: Is there anything you don't like about being a reality star?
CT: If you're a normal person, but you are kind of known, people will make little comments here and there, but when you are in the lime light, it's like everybody has something to say. It's not always positive, a lot of the times it is negative. They even had to tell us 'hey a lot of people like your show and love your family, but the people who don't like it likes to voice their opinion a little more. So you just kind of have to be at peace and really know who you are because you are going to get backlash. You're gonna get shaded….its just the business. 
DL: Have you ever had to do a clapback?
CT: Of course! I have clapped back at people on my mom's page, I've clapped back on people on Twitter. Its not a consistent clap back but you have to choose your battles. So there are times the clap back is definitely necessary. 
DL: I think what people forget is that you are human too. Although we see you on tv, we tend to forget that you have feelings, and have to deal with those when you close your door at the end of the night.
CT: Exactly!
DL: Now last season we saw you had a situationship I would call it. You weren't in a relationship but you were in a situation, What's going on with that, are you guys still together?
CT: Oh no, no no no no no. 
DL: Are you dating?
CT: I'm not dating right now, no I'm not. That's the cool thing about this season is I don't really bring anybody home. This season is really about me and my personal development. I feel one of the awesome things about that is at times, I might desire companionship, but I really got to prioritize my time, really value myself even more, and just get to know myself. Its been awesome. I'm 20 years old. I don't really have time for that right now. It took a while to come to though.
DL: I know you are attending Howard [University], what made you choose an HBCU?
CT: Howard was really the only school that caught my attention. All the other schools I went to, I just really wasn't impressed. I went on Howard's campus for my first tour, I just felt like I really connected with the campus, and I felt like it was the college for me to be at. 
DL: Being at school, have you been able to learn more things about yourself?
CT: Absolutely! I feel it will be exhibited on this season. You'll be able to watch and see how I've grown, how my opinions have changed, and my view points on a lot of different topics. 
DL: What are you majoring in?
CT: Public Relations for versatility, but I am really interested in productions. 
DL: Ok ok Cyrene Productions going on!
CT: Yes Cyrene Productions, speak it into existence.
DL: I've seen your pictures, have you been modeling? You look fantastic. You look so mature and adult on your pictures. I was like OMG!
CT: [Laughs] Thank you. I'm not signed but I do freelance if someone wants to do a cover shoot. It's funny when people comment about me looking grown, but its like guys I am 20 years old. The show did come out 3 seasons ago so time has passed. 
DL: [Laughs] Right. Well you know when you live in tv land its kind of hard to gasp the show was taped way before now.  
CT: Its just so funny because people comment on my pictures like "this is not the little girl we saw on the show" and I'm like duh! You don't watch me to stay the same. That's boring, 
DL: Did your mom and dad have any reservations about you modeling in some of the pictures you took?
CT: I mean yea, but you know, you just talk to them and let them know, I am getting older, I can make some decisions for myself. You know what, I'm a good girl at the end of the day. I do make mistakes and I do fall short all the time, but, they know I'm a good girl. 
DL: At the end of the day that's all that matters. They know they can trust you.
CT: And it's a picture. It's not like I'm holding Henny bottles or smoking marijuana or anything else. It's just a picture. 
DL: Yea because I saw your mom was like no smoking weed and drinking for you.
CT: Very adamant, very adamant about ruining my college life experience. [Laughs]
DL: Who is in your music rotation? Who are you listening to?
CT: I'm listening to so much right now. Yo Gotti, Curren$y alot. Drake is on replay….I like Dom Kennedy, Stalley, I like Winter Time, Bryson Tiller. Khelani is really smooth, and I love Rihanna's new album. I've always liked Rihanna, but her new album goes crazy. 
DL: Do you think this is her [Rihanna's] best album so far?
CT: No [Laughs] but you know she caters to a specific people. I like it because its not too poppy but its not too like…I don't know I feel like its got a good balance of a lot of different genres, which is not very easy to do. 
DL: Have you had any new bonds or friendships now that you are in the industry?
CT: Yea, I've gotten to meet some pretty cool people. I've never talked to Rihanna, but she followed me on Instagram, and I was just like um….why? [Laughs] I was just like…cool [laughs]. She had a show on Bravo, so I'm assuming that's what happened. I got to meet Big Sean, he's really really nice. I got to meet Emmanuel Hudson, the funny one on 'Wilding Out', I've interacted with Zendaya on Twitter, I met KeKe Palmer, she's really nice. Sevyn Streeter…uh I've met a lot of different people.
DL: If you had to name 3 things that your audience doesn't know about you, what would those 3 things be?
CT: I don't really know, that's a good question. I would like people to know that education is really important to me. Not really in the conventional sense, but whatever craft you choose, you should really research that craft. You should read more books on that craft. Find someone that's in that industry and look to them as a mentor so you can stay sharp. So I'm really big on that. I'm pretty big on fashion, I feel people are starting to realize that over time, It's definitely a growing interest of mine. The last thing that people may not know about me is that I really really want to travel the world. I plan on doing that quite soon. I'm big on expanding your horizons and exposing yourself to new things and new countries.
DL: I definitely see you in the fashion world. Whether its walking the runway, modeling, or maybe even designing your own pieces.
CT: Yea I am actually working on somethings now. If people want to stay updated on what I'm doing and things I'm working on, my website is http://www.cyrenelovette.com and they can subscribe and get updates.
DL: What are your social media handles?
CT: @CyreneLovette on Twitter and IG.
DL: Thank you so much for taking the time out to speak with Web Celeb Daily today, I really enjoyed you.
Now after the interview, Cyrene sent me a track where she covered Drake's song, 'Jungle'. Take a listen.
Who knew the girl could sing? I like her sultry voice over this beat!
Thicker Than Water airs TONIGHT on Bravo! Check your local cable listings for when it airs in your city. I promise it won't disappoint.
Keep Up With Web Celeb Daily!
Subscribe To WebCelebDaily.com
Like Us On Facebook: http://www.facebook.com/webcelebdailyfans
Follow Us On Twitter & Instagram: @WebCelebDaily